Well! 
Where does one start to try to explain or understand the weirdness that has been and continues to be 2020. 
I will try to leave my personal journey out of this although it will inevitably bleed in as my physical, mental and spiritual well-being are intrinsically connected to Drum Machine. 
We, like everyone else in the UK and almost the world, went into a full lockdown in March of 2020. The world closed. Businesses, shops, schools, gyms, community centres, pubs, clubs, venues, festivals…… EVERYTHING closed down and myself, like most who lost their revenue stream, focused on preservation of self and family.
I feel its enough to say that it was tough. It feels to me like we have all been tested and pushed to a point where you either sink or swim. 
Drum Machine, like all other businesses, accepted the lockdown and everything ground to a halt. No rehearsals, no gigs, no workshops and we did what most others did and descended into a world of zoom meetings. They were the only way for us all to stay connected. 
 
We did manage to keep ourselves busy on some level during the months by giving the band and the drums a new look. We also shot a new video with the help of a new film and media crew that are on board with us now. Check it here.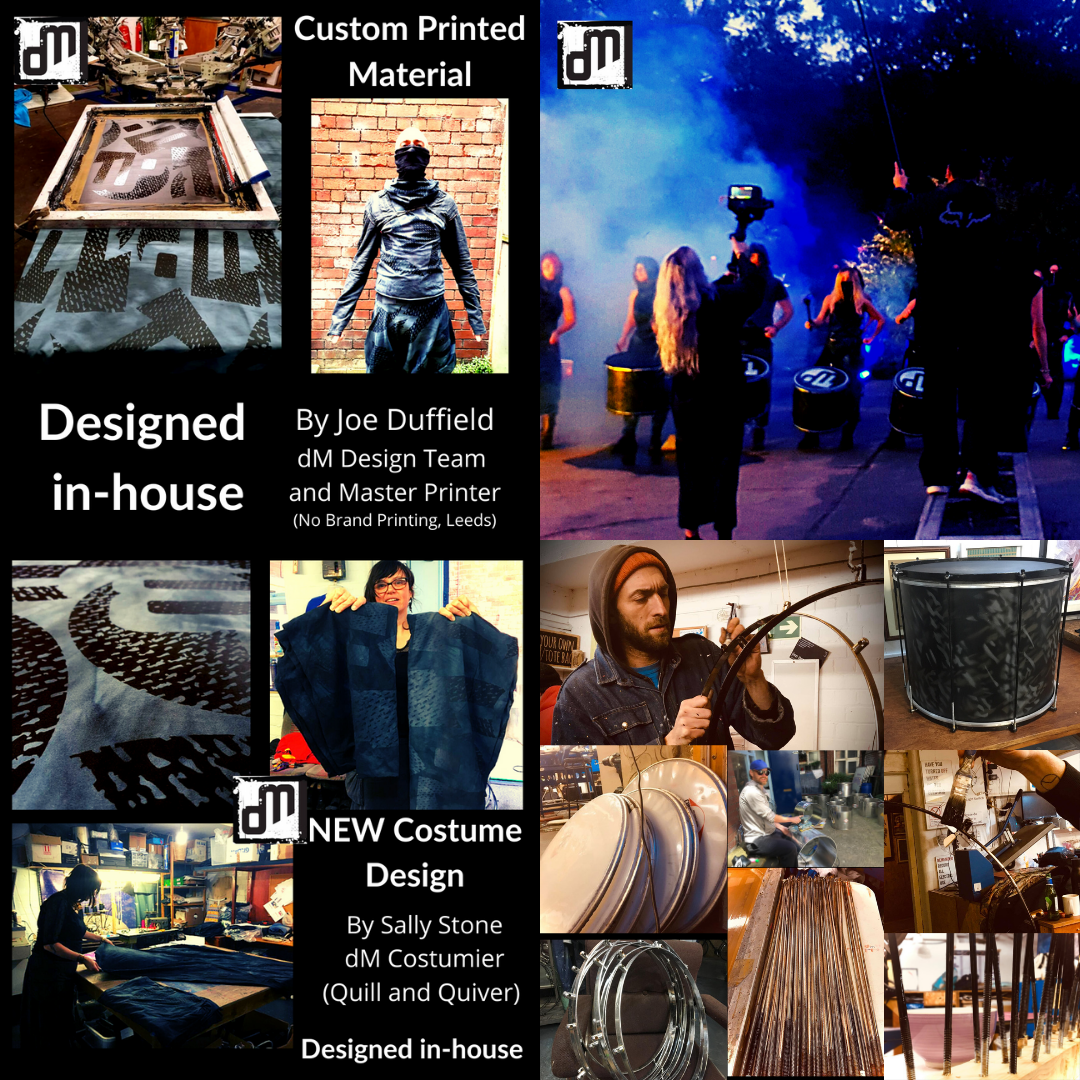 When lockdown ended in its first stages, by that I mean shops and pubs and community centres reopened and we were allowed to rehearse again under strict c-19 guidelines, a very strange set of events happened which has turned out to be the most positive thing that has ever happened to Drum Machine and myself. 
Since our beginning, we have rehearsed at Salem Community Centre in the beautiful West Yorkshire town of Hebden Bridge. The room we used was quite small. When we had 40 players in there it was tight.
To enable us and other building users to come back, the manager of the centre decided to move everyone up too the huge room and the top of the building. I resisted a little because i knew there would be some work required to sound proof the windows, but we had no choice.
So we set to work and a few of the players lead by Dave Edwards and designed by Adam Tennant (both bass players in Drum Machine) constructed huge shutters with soundproofing attached to cover the 9 massive windows in that room.
We moved upstairs into a space that could easily get 40 players in 2 metres apart and where we were able to adhere fully to all C-19 guidelines.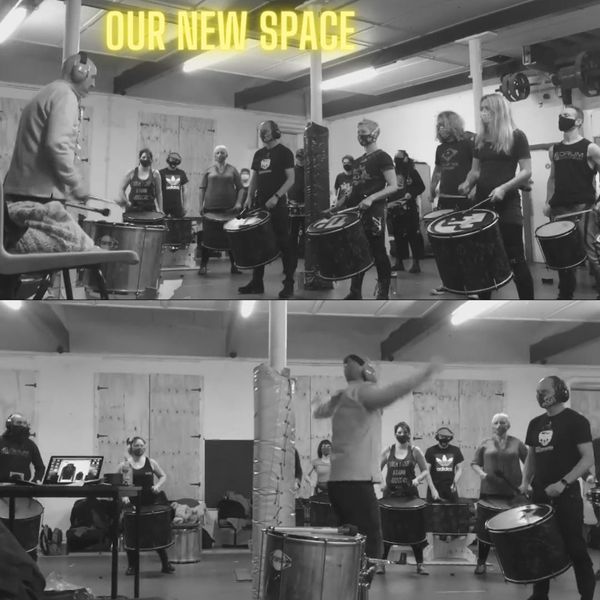 Literally overnight, I felt like we had been pot bound for years in the small room limited by its size as to where our creative energy could go.
Now, all of sudden we had this huge space and doors started to open. Because there were fewer users in the building, we were able to secure a second night in that room and launched a new rolling Drum Machine course.
We didn't really know what the take up would be and were delighted when we found ourselves overwhelmed with the response. We expected about 20. We got over 70 people apply.
We now run 2 courses on Thursday nights with 20 people in each and we have another 20 on the waiting list. It was obvious that the people really needed something. And I stepped back into my favourite role, that of being a teacher. 
I have long since been convinced of the healing power of repetition.
It is what united us all together on the dance floors of the late 80's, 90's and beyond. A reclaiming of a lost energy.
And I started to see myself more as a healer than a performer. 
Aid X
PS If you are interested in coming along to one of Drum Machine's Monthly 4 Week Courses (Thursday evenings in Hebden Bridge), email play@drummachine.org.uk and get your name down on the list for when a place becomes available. Opportunities to join the band start here also.