On the blog this week, Aid (Drum Machine's Creative Director) has written a review of Saturday's gig....
Here goes...
"It's always lovely when a venue invite you back. 
Especially if it's a beautiful and local venue like The Piece Hall in Halifax. 
We last played there at the New Years Eve 2018 event. 
What an incredible space.
And the team there always light it well and stage things that work so well in the space. 
This time we were here for The People's Play Party launched a sculpture exhibition by Alice Irwin; abstract metal characters with really cool projections by
Illuminos bringing them more to life and kids were climbing all over them in the square.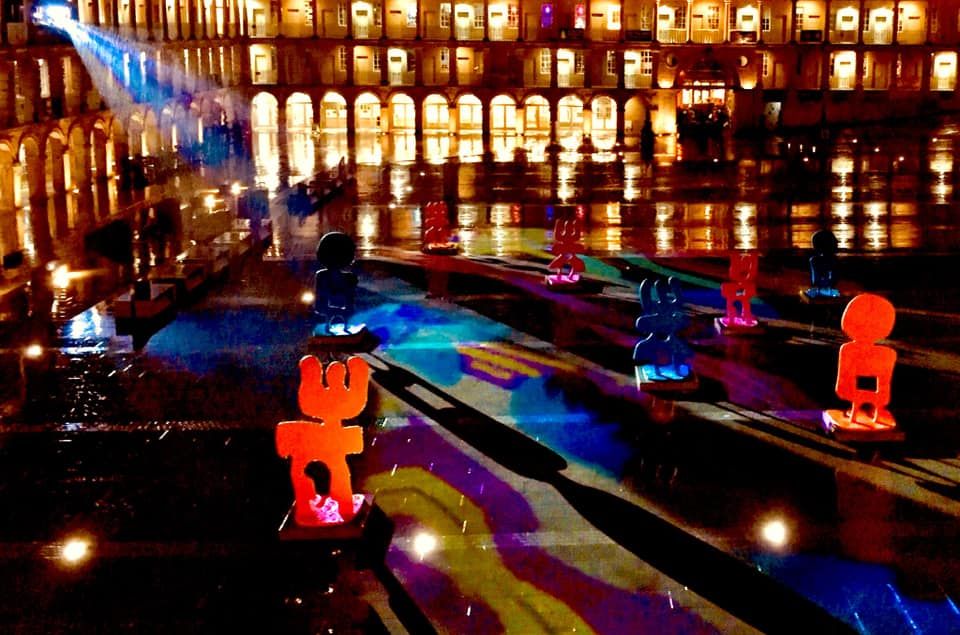 Drum Machine were asked to provide a sound track for the exhibition launch which of course we were happy to do. 
We had 2 sets. 
One at 4pm with no projections and in the sun (ish)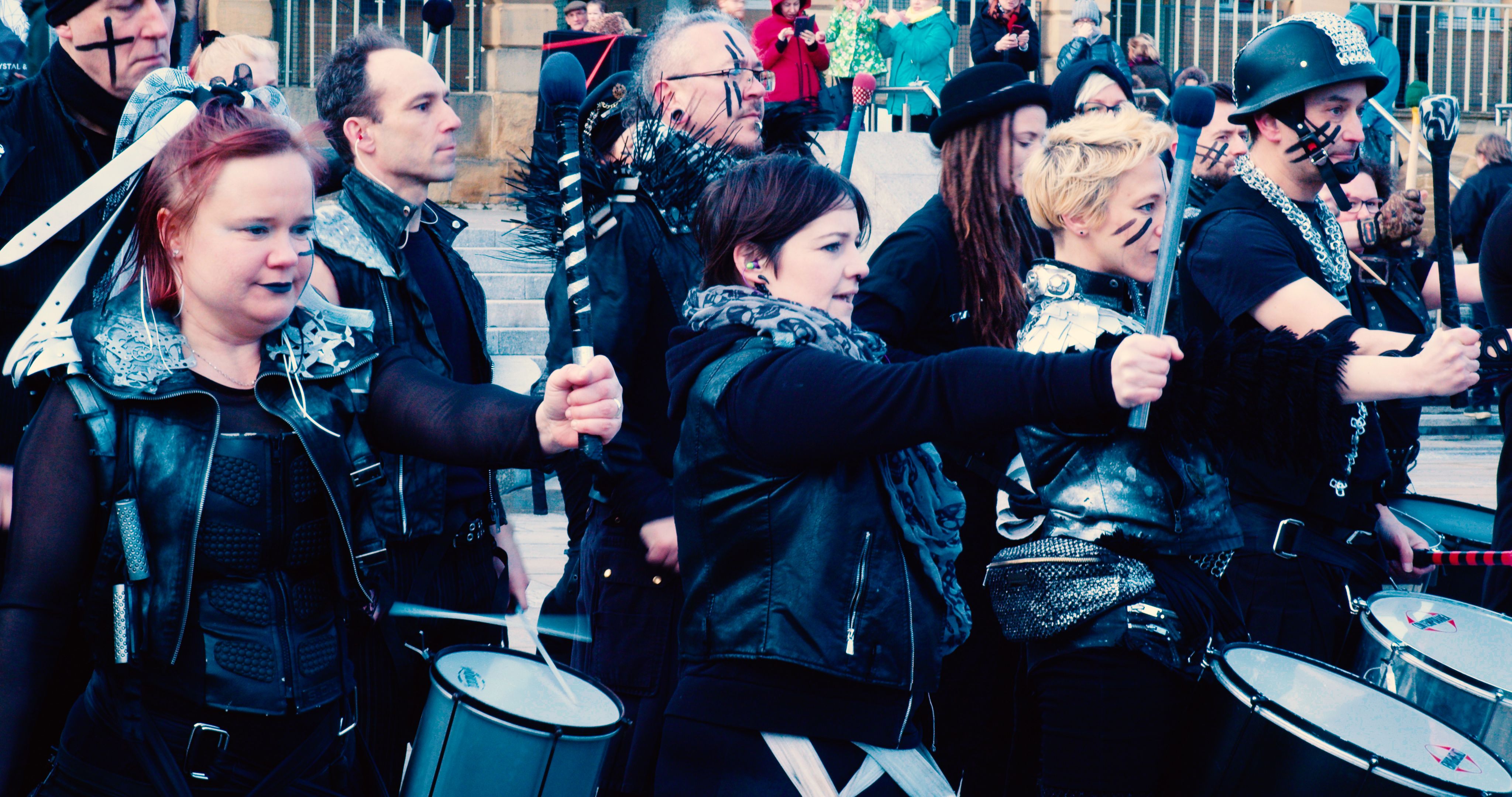 This set was fun. 
We took some percussion instruments and invited the kids to play percussion with us during the set.
Half way through and a few parents were groovin with us on bells also. 
It was  great response from the audience.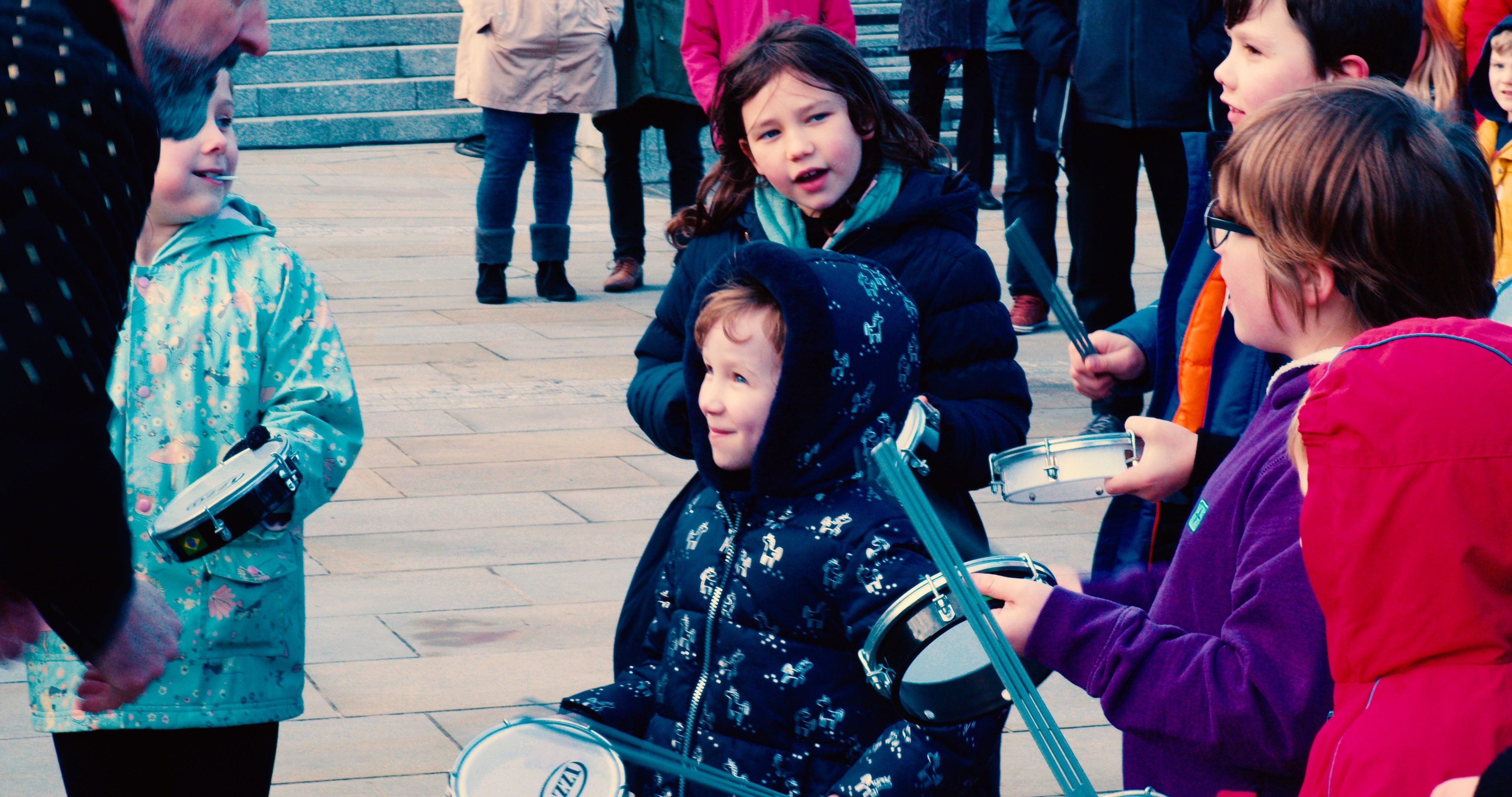 The second set at 6pm.
With dusk behind us, the projections rolling and the heavens wide open, throwing a torrent of rain at us and the hardy crowd that stayed and danced. 
There is something very primal for me playing drums in the rain. 
Taps into something deep. 
Hands were colder than ever. 
I couldn't feel my thumbs and had to take on a very unorthodox way of holding the sticks….. 
A bit like Oliver Twist with his knife and fork. 
But whatever works, right ?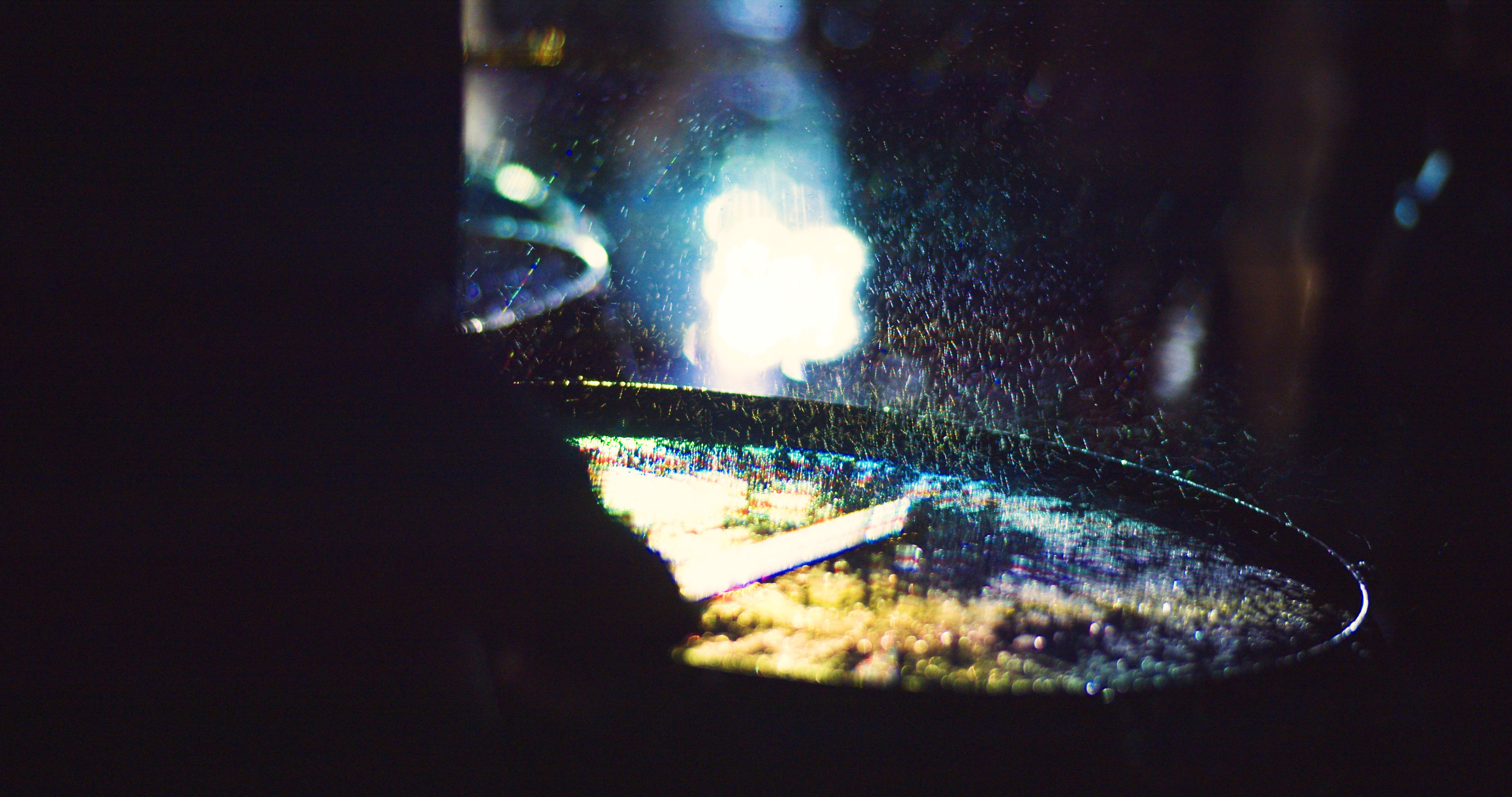 It was great. The projections looked amazing and there was a kind of, 'we're in it together' type energy between us and the crowd as the rain and sleet bounced of the drums and players. 
There was a bit of audience participation, but to be fair most people were bouncing for body heat.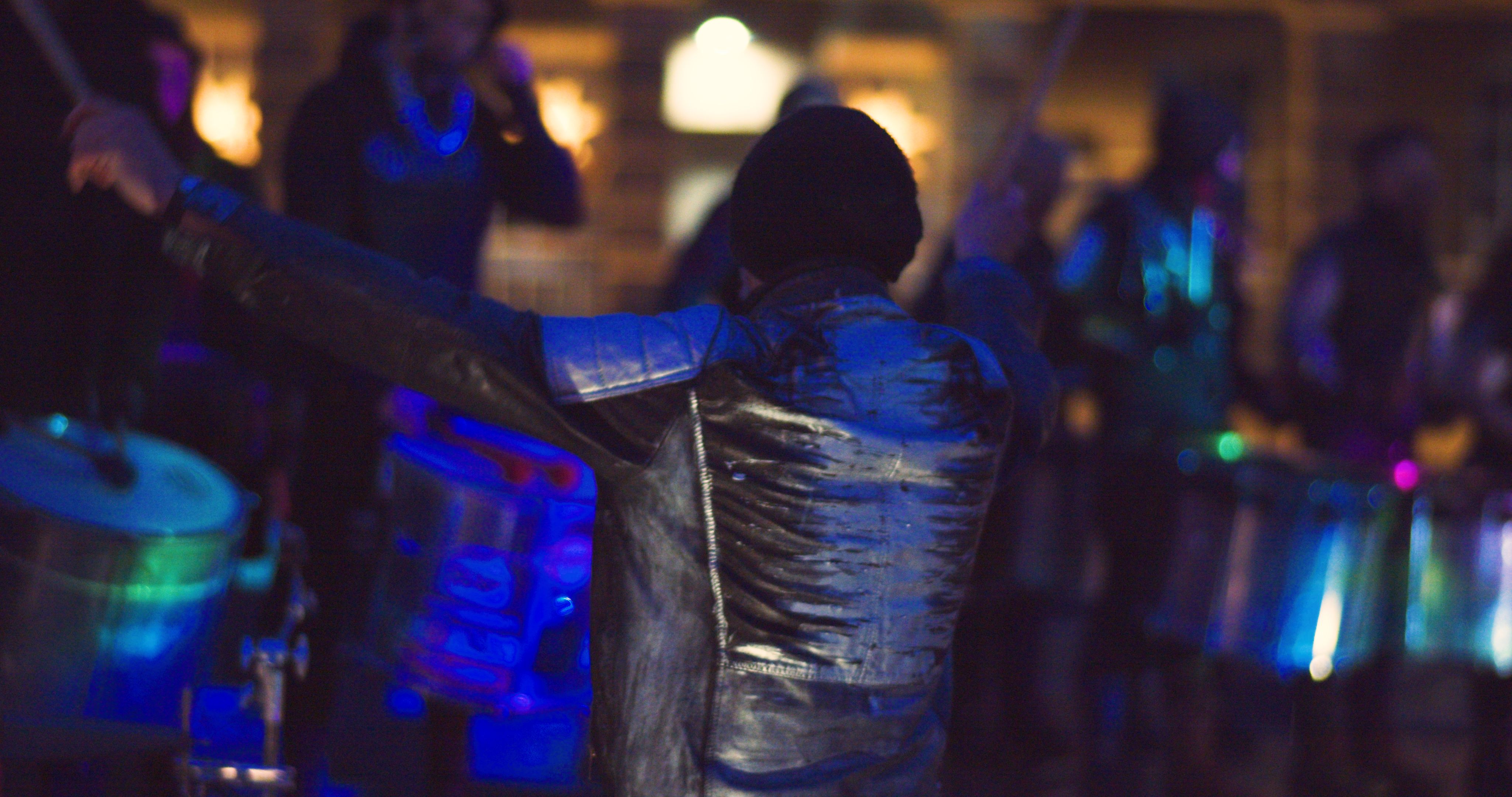 Throughout the whole day we had Luke & Ryan from Entheos Media Group who we are making a documentary with us about the creation and life line of Drum Machine.
They were interviewing, players, audience members and players kids and of course filming the performance, so watch out for a small clip of that to come soon. 
It was a blast.
 All in all another great day on the streets of the UK."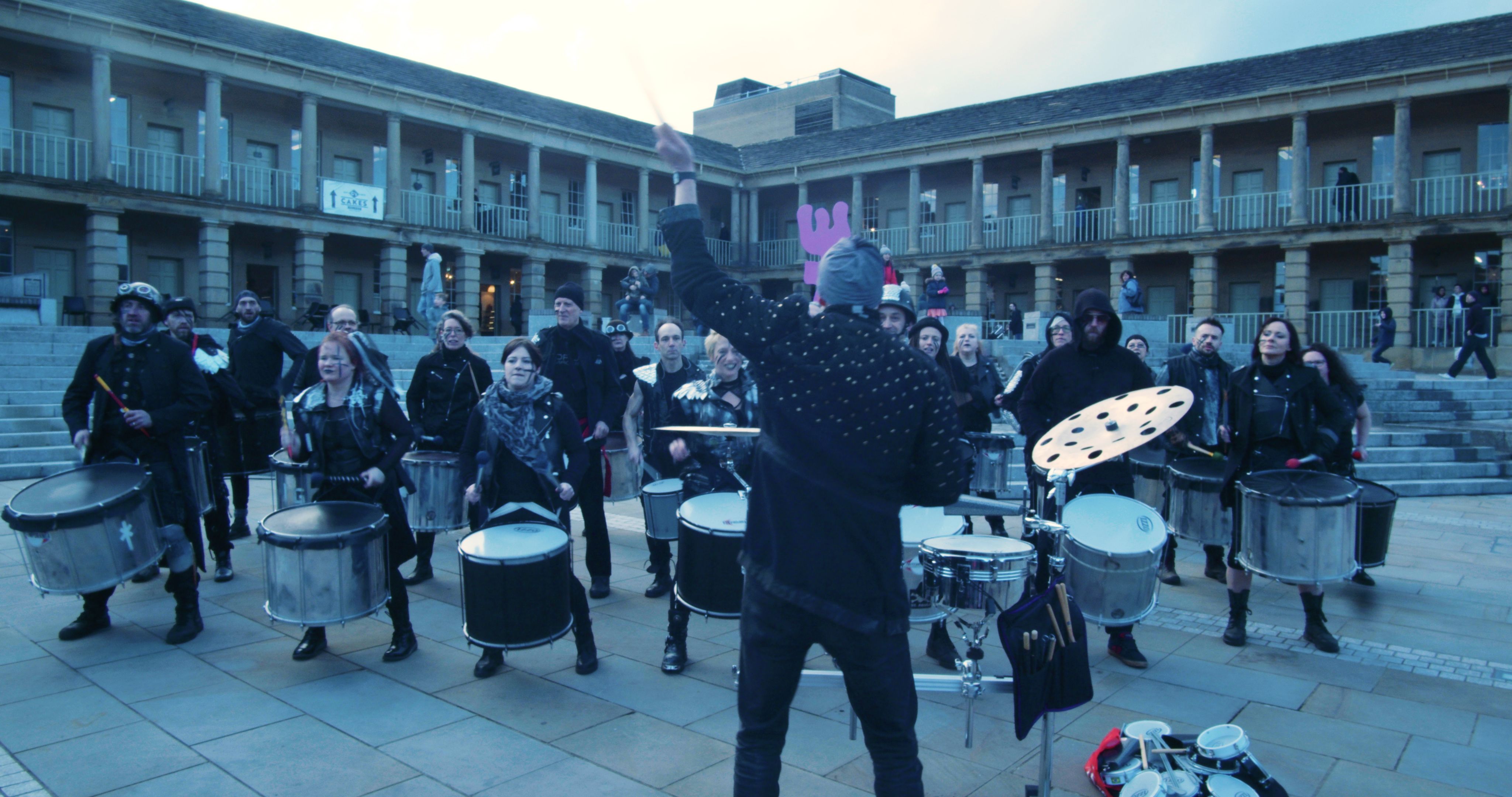 PS We have a NEW 6 Week Course starting on Friday 6th March 7-8.30PM in Hebden Bridge. If you would love to come and have a go at playing with us, email Aid@drummachine.org.uk for more details