We would like to extend our gratitude to Tony Webber for submitting this great piece on what it's like playing in Drum Machine.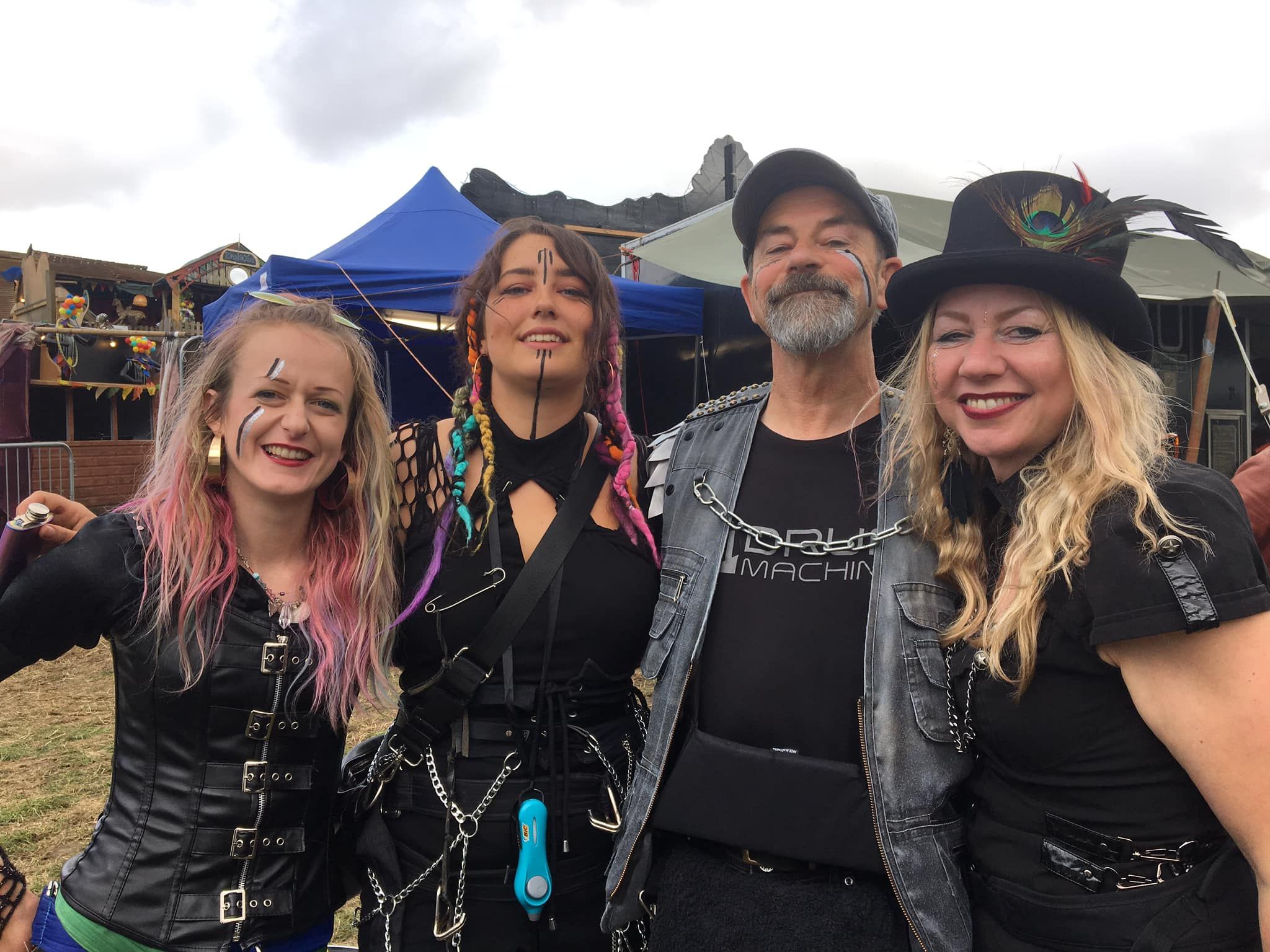 "We are about to play at a summer festival in a small country park. Although not a large festival by today's standards it has an impressive line-up of artists and bands. It feels like the hottest day of the year, possibly the hottest day ever. Anywhere. Ever. 
Today the drum trailer is parked right next to the venue. Result. The band are getting ready, drums out of bags, costume adjustments, pre-show rituals. Taping sticks and fingers. The sun is beating down relentlessly, face paint is drying instantly. The machinists are getting ready to play the hell out of this festival. 
Small groups of us are wandering into the marquee, waiting to get on stage soon, always a bit early, a raggle-taggle line of us holding our drums and looking like a post-apocalypse band of itinerants. Like extras from Mad Max. Some of us, adrenaline fuelled, fiddling about with individual pre-show stuff… fidgeting with sticks or bits of costume, shuffling about,  sipping water, or tapping a drum quietly in time to the DJ music and hungry to get up there playing. 
I'm just wondering how we are all going to get onto that small stage when suddenly we are moving, filing up the narrow steps onto the relatively tiny performance area built for bands of five or six. Twenty five players are shuffled about before settling down into three rows, everyone so close together, more elbows than a jumble sale. I am in the back row with the basses, on the end of the line, my left foot actually on the very edge of the stage. One false move and it could really be the end of the line! 
We are bathed in pink light which reflects and twinkles off the shiny parts of our costumes, selfie heaven. As we wait and the drums get mic'd and sound-checked, I decide that I am going to try to make as many of the audience smile back at me as I can. Already got a few and we haven't even started playing yet. 
Then, suddenly it's time. We're being counted in. "One.. two.. three.. four.." and on the next 'one' the snare drums come to life setting a metronomic gritty pace, soon joined by the piercing sound of the repiniques. It's like a calling together, an invitation cutting through the hot air. Our audience gets it and is starting to sway to the band. 
Next, the kutador section start their rhythmic rumble, adding colour and gestures and maybe a promise of things to come. Expectant. I am watching the audience, smug in the knowledge of what's coming next and I know there'll be more smiles. 
And then, it happens! 
A detonation of bass beats. Heavy beats. Beats that you feel in your chest. And at that same explosive moment the whole band starts moving, stepping with the count and with each other. The maelstrom that is Drum Machine is very much in the house. 
The set is really rocking along now, the band moving with its hypnotic sway, the edge of the stage is precarious and I'm looking for the softest landing in case I miss my footing. 
Meanwhile the tent has miraculously filled up, packed to bursting and overflowing with the seething mass moving with our beats. Blissed to the trance. Boy it's hot in here. In more sense than one. 
Time seems to distort and dissolve now as our four sections weave their collective rhythms into one. Seamlessly melding into the groove, transcending, meandering through the breaks and drops, all expertly guided and Aided by the Man with the Plan. 
And then we can all feel that we're heading to the finale. Every beat, every gap filled as 50 sticks drumroll us toward the crescendo, loud… louder… loudest, keeping it going, how long can we all keep this up? And then finally, fi-nal-ly, following the thousands of beats that have led up to this… the band is as one as we hit the very last beat. The One. The last one, altogether, on the one. 
The audience ignite. They are whooping and whistling, waving their arms, cheering, making almost as much noise as we did. Most of all, a tent full of smiles. Our work here is done! 
(Except it isn't, for in two hours we shall be lucky enough to do it all again)"
                                                                    By Tony Webber
A HUGE thank you to Tony for writing this creative piece!!!
We note the line near the end   '…guided and Aided by the Man with the Plan' that the capitalisation of Aided is deliberate :-)
And please do send your blog submissions to kati@drummachine.org.uk X